All You Need to Know About Micro ATM Machine: Features and Working
India is becoming more and more cashless as a society at the current times. National Payments Corporation of India (NPCI) along with the Reserve Bank of India are working furiously to make India a 'cashless economy in the current future. One of the most useful services developed by NPCI is AEPS. But in this article, we will talk about one more such star-studded service called 'Micro ATMs', for the legitimization of the cashless economy in India.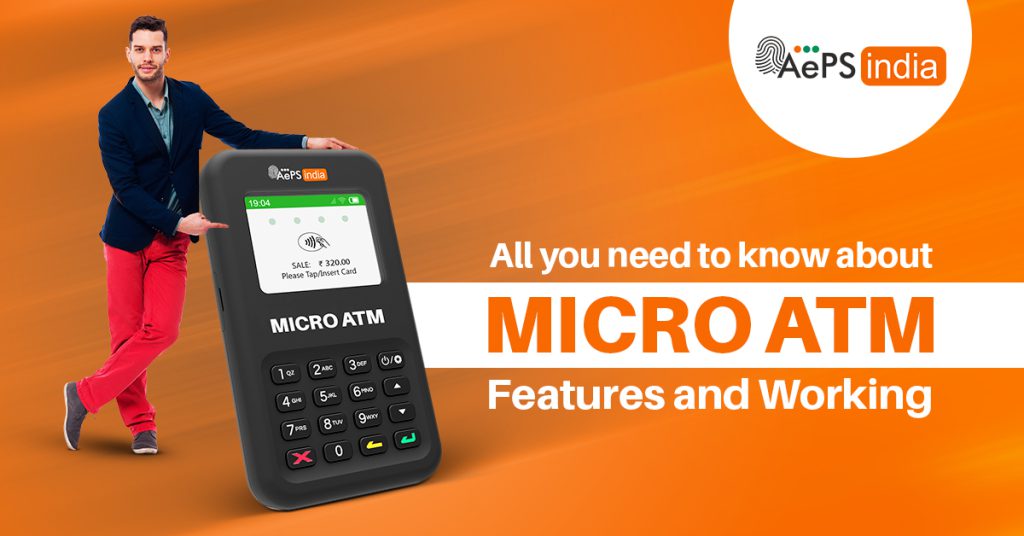 Micro ATM Machine: Introduction
Micro ATMs are some kind of special ATMs but they do wonders for most businesses in different ways. These are technologically advanced versions of PoS- Point of Sales. These mini ATMs are connected to mobile internet through GPRS – General Pocket Radio Service. It takes into account "Core Banking Solution " or CBS for performing various functionalities.
A Micro ATM provides a plethora of services like cash deposit, cash withdrawal, account opening, and fund transfer. Anyone can avail of the above-mentioned services by either using a debit card or Aadhar Enabled Payment System (AEPS). AEPS uses the finger scanning feature for the usage of Micro ATM features.
Many people think of Micro ATMs as a new concept. But that is not true. These mini versions of ATMs have been around for a long time in India, especially in semi-urban and rural areas of our country. Micro ATMs are used in places where access to traditional, full-fledged ATMs is difficult. Many financial services and banks now use Micro ATMs to render basic banking services to customers situated at far-end locations, where actual banks are not able to land their foot due to issues related to connectivity.
Another way to state the importance of Micro ATMs in the current scenario of India is that when the cash crunch hit the country during demonetization, the Government deployed at least 2 Lakh micro ATMs mostly in semi-urban and rural areas.
Why were Micro ATMs invented?
The core reason for the invention of these mini ATMs was to provide micro-inclusion to people residing in rural areas.
But at the same time, micro ATMs have garnered real good popularity in India due to their ability to stand through minimal to maximum financial crunch.
Moreover, to understand the main reason for the prevalence of Micro ATMs in India, one must understand AEPS – Aadhaar Enabled Payment System.
AEPS is short for Aadhaar Enabled Payment System which lets users take advantage of banking services and make transactions via unique codes, identification numbers, and fingerprint authentication. For using the AEPS, users must link aadhaar card to their bank account. National Payment Corporation of India (NPCI) developed the AEPS service to facilitate a cashless society. The entire system has been developed in a way that allows users to make transactions even if there are no banks nearby! Not only banking facilities, but AEPS software also helps in generating vital businesses; anyone can start their own banking services using AEPS software and mint in green!
But even after being so useful, there were some wonders that AEPS still could not perform. One can withdraw cash via the usage of an Aadhaar card through the AEPS system. But what if one wants to make a withdrawal using Debit Cards? It was pretty costly and inconvenient to install full-fledged ATMs in rural areas, and that is the reason why Micro ATMs became the need of the hour.
How do Micro ATMs work?
The working and functioning of Micro ATMs are not that hard to understand. In simple terms, the functioning entails the following:
Every bank appoints BCs or Business Correspondents to run these micro machines. As per the Government of India, Micro ATMs are devices that are used by a million Business Correspondents (BC) to deliver basic banking services. The platform will enable Business Correspondents (who could be local Kirana shop owners and will act as 'micro ATMs') to conduct instant transactions.
Whenever a person swipes a debit card, the PoS (Point of Sales), as a matter of course, automatically reads the data of the card. Then for authentication, one has to enter a PIN or use a biometric system.
Through Core Banking Solutions (CBS), the PoS is connected with a host.
Now all the details are forwarded to the NPCI and after verification, the transaction takes place.
The amount is then transferred to the account of the business correspondent which is already connected to the whole system. Then one can retrieve that amount from the correspondent. Note that, you must always take a receipt after doing so.
The Best Micro ATM machine provider in India: Noble Web Studio
Noble Web Studio is the best Micro ATM machine provider in India for you to start your own B2B or B2C business. So if you are looking for starting your own withdrawal system through Micro ATMs, Noble Web studio will act as a one-stop shop for all your requirements.
Noble Web Studio is the best Micro ATM machine provider in India with mobile applications, software, and Micro ATM devices.
Functions performed by Micro ATMs
Here is a concise list of all that a Micro ATM is capable of doing:
Cash Deposit
Cash Withdrawal
Money Transfer
Balance Enquiry
Service Request Acceptance
eKYC-based account opening
Aadhar Linking
What are the benefits of Micro ATMs Machine?
To attract more customers to your service, you must know what all Micro ATMs can offer and how beneficial they are. Here are some in-depth key benefits of Micro ATMs:
The first and foremost benefit of Micro ATM is that it is able to provide banking and financial services to people living in far lands and rural areas.
Another important benefit of Micro ATM is the door-to-door banking facility. Since PoS is a portable device and offers mobility, 'doorstep banking' can be facilitated.
The whole algorithm of Micro ATMs is pretty easy to understand and use. This makes the whole process for users as smooth and effortless as possible.
When taking into account the costs of conventional ATMs, Micro ATMs incur negligible operational costs. One reason is that there is no maintenance cost involved, as no security guards, rent of the place, or electricity costs are involved.
At the same, setting up Micro ATMs in rural areas also caters to employment. Retired banking staff, and shopkeepers, can easily make up for good business correspondents after securing approval from the bank.
Conclusion: Micro ATMs; future and beyond
Looking at the current times and trends of the future, Micro ATMs are a sure shot. Their usage is going to expand exponentially in the coming times. Therefore, a mini ATM machine would be a great way to induce a profitable business idea and garner good returns with a one-time major investment.
Noble Web Studio provides authentic guidance and is one of the best Micro atm machine providers in India.
Get in Touch for More information