6 Essential Steps To Ensure That Your AEPS Portal Is Profitable
We are almost at the end of the year 2022, and we can confidently say that the Aadhaar Enabled Payment System, or as we popularly call it, AEPS portal service, has taken huge leaps in the rural and the semi-rural regions of our country.
Over 36 crore accounts opened under the Pradhan Mantri Jan Dhan Yojna are active today and many of them avail of Aadhaar pay frequently.
And not only has AEPS service been a huge move towards extending the digitalization of the Indian market into the rural areas, but it is also a great business opportunity for the more business-savvy people residing in these areas.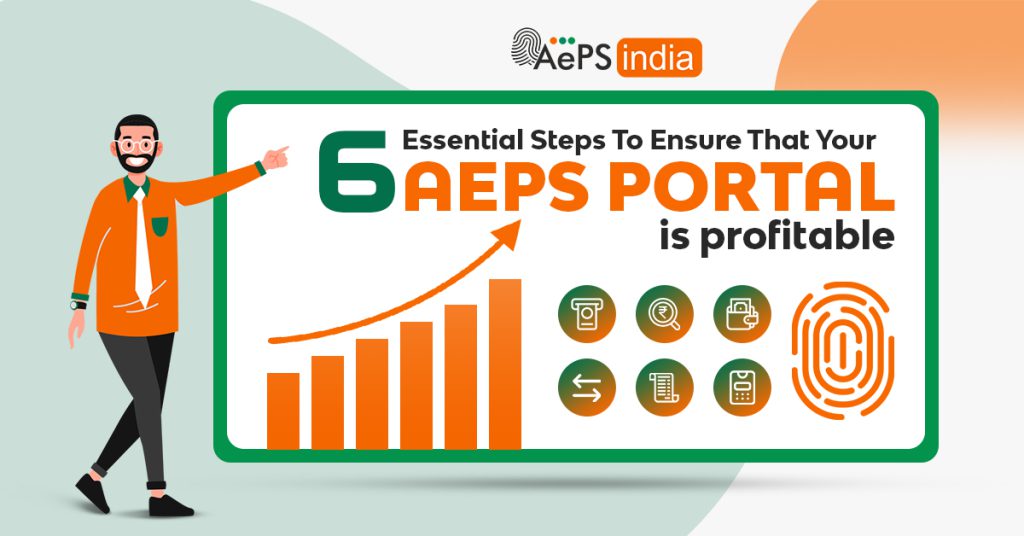 AEPS service allows you to perform a number of transactions through the PoS (Point of Sale) system, which in most cases is a Micro ATM. You can get great assistance in obtaining a Micro ATM with Noble Web Studio, and that too at a very reasonable price.
To further enhance your business you also need an efficient AEPS portal, it will help you to track all your transactions and manage a larger and more diverse clientele. Noble Web Studios boasts a number of options to customize your own AEPS portal with your own brand name.
While you venture into your AEPS service business, how do you keep track of whether you are on the right path or not?
How do you know if you are spending your money in a way that will eventually bring you profit?
While there is no one right answer to these questions, here are 6 steps that will point you in the right direction.
6 Essential Steps to Start a Profitable AEPS Portal Business in India
Know what you need.
Do your own market research.
Finish all the legal formalities
Choose an AEPS API provider company.
Choose and obtain your domain name.
Be hands-on with technical training.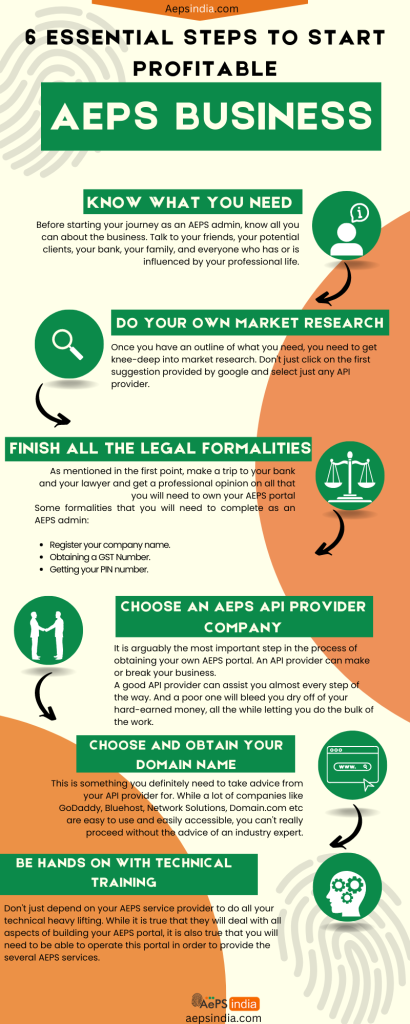 Know What You Need
Before starting your journey as an AEPS admin, know all you can about the business. Talk to your friends, your potential clients, your bank, your family, and everyone who has or is influenced by your professional life.
Take out a notebook and make a list of all you will need. From the smallest of expenses to the biggest investment possible, write it down and see how you can budget. Don't forget to include the multiple trips you might need to make to your bank, your lawyer, your accountant, etc.
Think about the AEPS portal you might own one day, visualize it, and meditate carefully on what exactly you want to present to your API provided. This will help you to not be swayed by things you don't need.
Do Your Own Market Research
Once you have an outline of what you need, you need to get knee-deep into market research. Don't just click on the first suggestion provided by google and select just any API provider.
Talk to people, book demos, and present your vision of your AEPS portal. You should also go through customer reviews, and the experience of other AEPS admins in order to make your decision. And lastly, you must compare prices and not settle for services you are not 100% satisfied with.
Finish All The Legal Formalities
As mentioned in the first point, make a trip to your bank and your lawyer and get a professional opinion on all that you will need to own your AEPS portal.
Some formalities that you will need to complete as an AEPS admin are:
Registering your company name.
Obtaining a GST Number.
Getting your PIN number.
Choose An AePS API Provider Company
It is arguably the most important step in the process of obtaining your own AEPS portal. An API provider can make or break your business.
A good API provider can assist you almost every step of the way. And a poor one will bleed you dry off of your hard-earned money, all the while letting you do the bulk of the work.
Noble Web Studio is one of the leading providers of software for AEPS portals. With a reasonable rate and good reputation, Noble Web Studio can very well be exactly what you need in order to succeed.
Some services that you must seek from your AEPS service provider are:
Technical Assistance
Good commission rate.
Easy to use panels.
The Aadhaar pay service.
Giving priority to security.
Offers you real-time AEPS settlements.
A very easy API integration.
Multiple API support.
Fast transactions.
Choose and Obtain Your Domain Name
This is something you definitely need to take advice from your API provider for. While a lot of companies like GoDaddy, Bluehost, Network Solutions, Domain.com, etc are easy to use and easily accessible, you can't really proceed without the advice of an industry expert.
Go with something that meets your needs as an AEPS admin and is the best for your AEPS portal.
Be Hands On With Technical Training
Don't just depend on your AEPS service provider to do all your technical heavy lifting. While it is true that they will deal with all aspects of building your AEPS portal, it is also true that you will need to be able to operate this portal in order to provide several AEPS services.
Ask your API provider to help with this training bit and be in tune with the portal you now own.
To Conclude:
Measures have been taken by NPCI and UIDAI to ensure that the process of providing AEPS services to potential customers isn't needlessly complicated. But it is still a 'process' and it will need careful and mindful dedication. While a dependable API provider like Noble Web Studio can help make this process easier, there is nothing better than being prepared for all scenarios