Aadhaar Enabled Payment System (AEPS) was launched to empower bank customers to use their Aadhaar as his/her identity to access their Aadhaar-enabled bank account. Using AEPS services the bank account holder can perform basic banking transactions like cash deposits, cash withdrawals, Intrabank or interbank fund transfers, balance inquiries, obtain a mini statement, etc.
You need to seed your account with your Aadhaar number at the bank or with the help of a banking correspondent to do transactions using AEPS. AEPS allows bank-to-bank transactions at PoS (MicroATM).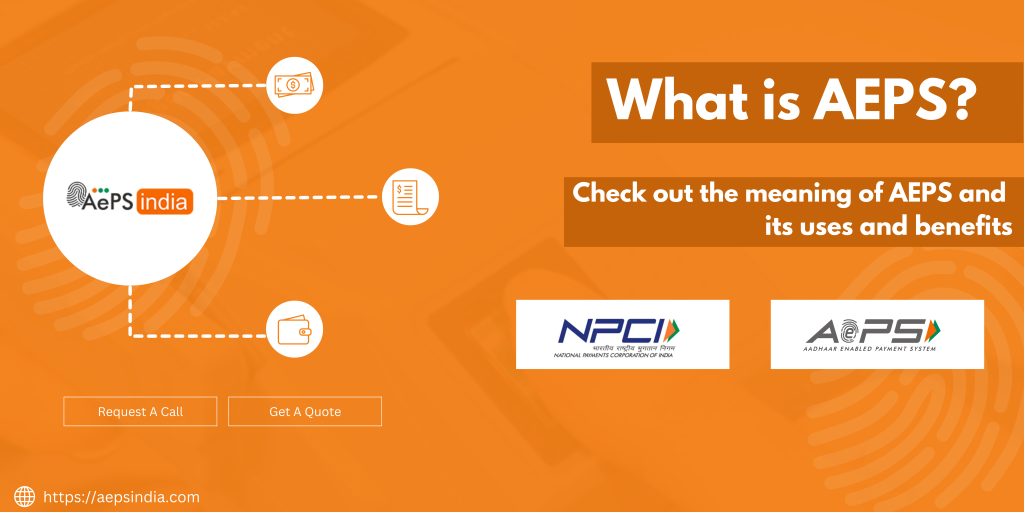 Uses
The user can perform the following using aeps service:
Account balance check
Aadhar to Aadhar fund transfer
Cash withdrawal
Cash deposit
Purchase at fair-price shops with AEPS Benefits
Benefits
Aadhaar Enabled Payment System is a way to get money from a bank account, and it has the following merits:
The account holder can do the financial and non-financial transactions through the banking correspondent.
A banking correspondent of any bank can do the specified transaction of any bank.
You don't need to have a signature or debit card.
It is secured because no one else can forge your fingerprint.
Banking correspondents can reach distant rural places with the micro POS.
Key steps for AEPS transaction
Walk into a micro-ATM or the banking correspondent.
Provide your bank name and Aadhaar card number.
Choose which transaction you need to do and complete the transaction.
On successful transactions, you will get a print slip.
Provide the fingerprint on the scanner
FAQ
What is AEPS?
AEPS stands for Aadhaar Enabled Payments System. It is a system that allows people to use their unique identification number, called Aadhaar, to make financial transactions through any nearby bank's business correspondent using Aadhaar authentication. Aeps supports six different types of transactions.
How do I start an AePS business?
To start an AePS business, you must register as a merchant under the AePS portal. Once registered, you can accept financial transactions through the AEPS system.